Basically Master Boot Record (MBR) allows users to create or divide only 4 primary partitions.So in order to create more partition a structure is needed generally known as Secondary structure as well as extended partition.
For this reason, many users might need to convert MBR disk to GPT disk. However, it is not an easy job for most users who are lack in computer knowledge and technical skills.
So in this page, we would like to introduce you three simple ways to do the task:
How to Convert MBR Disk to GPT Disk
Note: For Converting the MBR disk to GPT disk it needs  to delete all partitions and volumes on the disk, so please make sure that you have backed up everything important before starting the job.
How to convert MBR disk to GPT disk with EaseUS free partition software
Download:
To perform this task we need to download a free software called EaseUS free partition. This software allows you to directly convert MBR disk to GPT disk without any data loss.

1. Launch EaseUS free partition software and select the MBR disk that you want to convert to GPT disk. And then click "Convert MBR to GPT".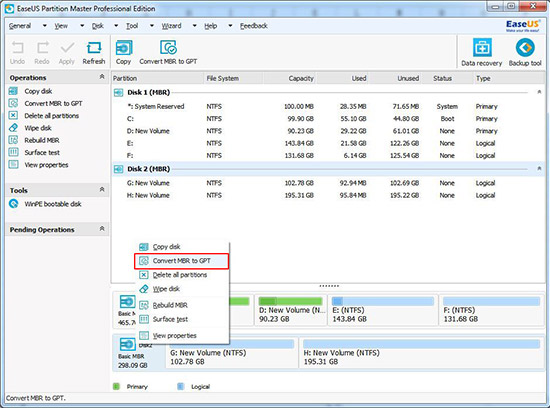 2. Click Apply, you will see that the MBR disk has been converted to GPT disk without any data loss.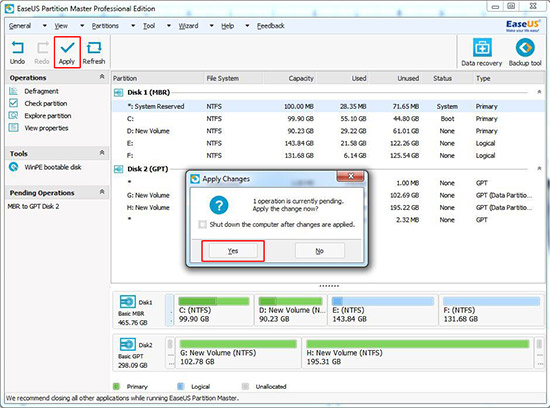 Incoming Search Results :
How to Convert MBR Disk to GPT Disk, How to Convert MBR Disk to GPT Disk,How to Convert MBR Disk to GPT Disk,Way to Convert MBR Disk to GPT Disk,process to Convert MBR Disk to GPT Disk